UltraPlex Chromogenic Multiplex Technology at Leica Biosystems Multiplex Users' Meeting
January 27, 2021

Cell IDx is excited to preview the release of our new UltraPlex chromogenic multiplex IHC product line at the Leica Biosystems Multiplex Users' Meeting on February 2–3rd. We would like to invite everyone to the event to hear Dr. Helen Snyder introduce this new technology. Please register at Please register here.
Industry veterans Gary Magnant, Karen Padgett & Cheri Walker To Join the Cell IDx Board of Directors.
November 18, 2020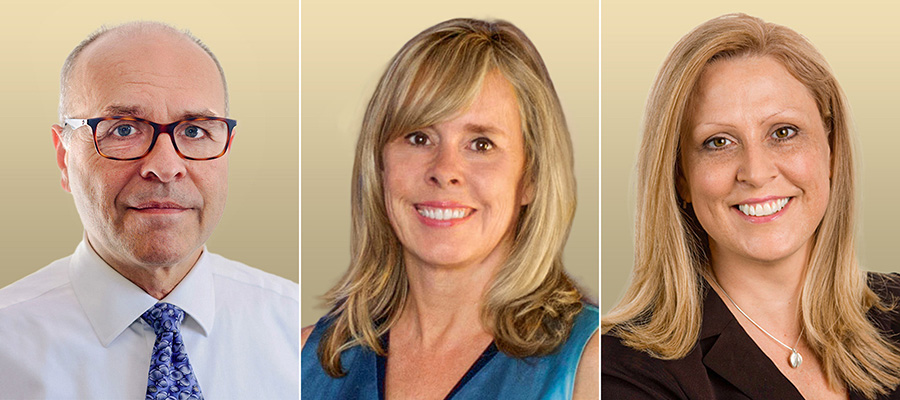 Cell IDx, providers of advanced multiplex immunoassay technologies, today announced that industry leaders Gary Magnant, Karen Padgett, and Cheri Walker (in photo, respectively) will join Cell IDx's Board of Directors. "We are delighted to welcome Gary, Karen, and Cheri to our Board of Directors," shared David Schwartz, Cell IDx's Founder and CEO. "Gary Magnant is a serial entrepreneur who has founded multiple technology companies, served on numerous boards, and has raised significant investment capital. Karen Padgett is the founder and former CEO of Novus Biologicals, a global life sciences company that was acquired by BioTechne in 2014. Karen grew Novus from a company of one and revenues of $0 to an international company with revenues in excess of $20 million. Cheri Walker has over two decades of experience in corporate development in life science tools and diagnostics companies including Abcam, Charles River, Invitrogen, and Qiagen and is currently CEO of Rhinostics. Their experience will be key as Cell IDx expands its range of multiplex immunoassay solutions for pharma, research, and clinical applications."
Did you know that Cell IDx services are now on scientist.com?
September 2, 2020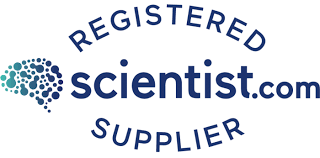 Cell IDx is a Registered Supplier with scientist.com, so sign in and send us a request today. Access our full-service multiplex biomarker tissue section staining, imaging, and analysis services using both fluorescent and chromogenic multiplex panels in human and in mouse.
Cell IDx is pleased to announce the co-authorship and use of our UltraPlex mxIF technology for profiling of the TME in this important study
March 6, 2020
A Phase I trial assessing the safety and tolerability of a therapeutic DNA vaccination against HPV16 and HPV18 E6/E7 oncogenes after chemoradiation for cervical cancer. View a summary of this paper by Hasan et al.
Nature: Single-cell Analysis Reveals New Evolutionary Complexity in Uveal Melanoma
January 24, 2020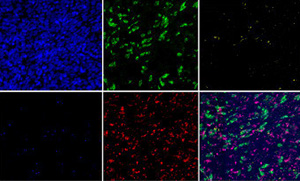 Cell IDx is pleased to announce the co-authorship and inclusion of our UltraPlex mxIF technology in the University of Miami's Nature Communications paper "Single-cell analysis reveals new evolutionary complexity in uveal melanoma." Read the full paper on Nature's website.
Visit Us At SITC 2019
November 8–9, 2019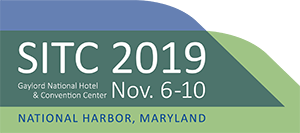 Come visit Cell IDx at SITC 2019 Booth #316 November 8–9th. Learn how to accelerate your research with 'mix and match' UltraPlex modular. Also, find out about our new product developments — including soon to be released chromogenic multiplex IHC, mouse panels for preclinical research, and kits to make your own multiplex panels. Stop by or call (858) 452-5800 to arrange a meeting.
Visit Cell IDx at the AACR 2019 in Atlanta
March 30 – April 3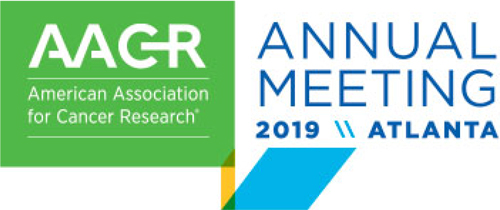 Please stop by to meet us at Booth 4462 at AACR 2019 in Atlanta March 30 through April 3, or call (858) 452 5800 to set up a meeting. Learn how UltraPlex can rapidly advance your research from discovery through translational to clinical by delivering semi-custom biomarker panels within days and fully-custom panels within weeks. Full-Service from multiplex panel supply to sectioning, staining, imaging, and analysis services.
Cell IDx Now Offers 6-Plex Panel Development
November 16, 2018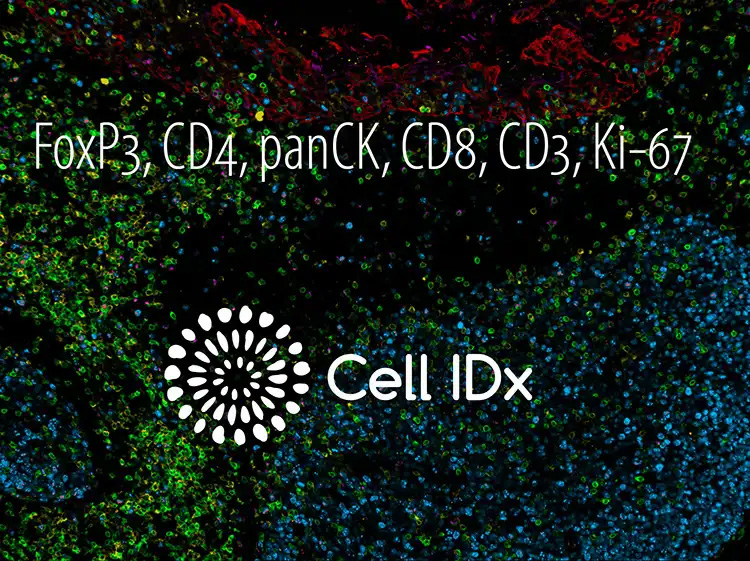 Nature is complex. The need to contextually detect and quantify as much protein and genetic biomarker information from a single slide is of paramount importance. Cell IDx has expanded its UltraPlex mxIF technology to be able to simultaneously detect with a single antigen retrieval step six biomarkers. For information about custom six-plex panel development, please contact us at info@cellidx.com.
Meet Cell IDx at SITC 2018 in Washington, DC
November 7–11, 2018

Meet us at SITC 2018 at the Walter E Washington Convention Center, Washington, DC, in booth 110 from November 7–11, 2018. Please stop by to find out how our UltraPlex technology can enable rapid development of new multiplex panels for immune profiling of tumor biopsies. If you have novel markers or don't see the exact panel you need on our web site, just ask. We specialize in rapid develop of new and semi-custom panels. To schedule a meeting, please call (858) 452 5800 or stop by booth 110.
Visit Cell IDx at the AACR 2018 in Chicago
April 14–18, 2018

Cell IDx will be at the American Association for Cancer Research (AACR) Annual Meeting in Chicago April 14–18. Please call 858.452.5800 to arrange a meeting or just stop by booth #2038 to learn more about the UltraPlex mxIF technology for rapid immune profiling of tumor samples or to discuss potential biomarker panels that could advance your research.
Cell IDx Webinar on "Immunofluorescence Profiling of Tumor Biopsies Using UltraPlex mxIF Technology"
April 6, 2018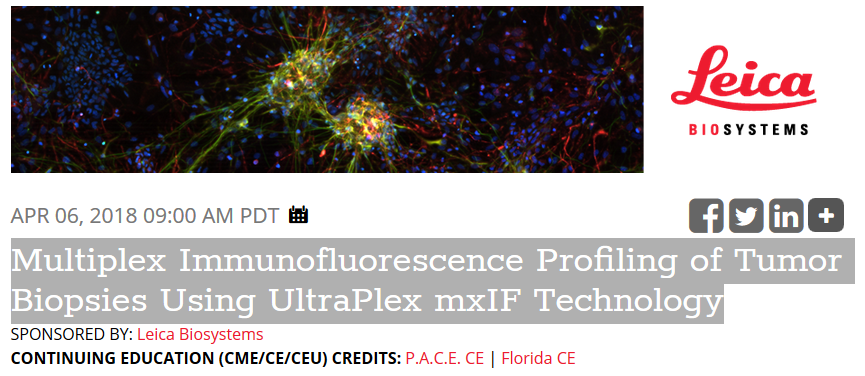 Please join Helen Snyder, our Director of Preclinical Development & Strategic Partnerships for a joint Cell IDx/Leica webinar looking at the application of multiplex immunofluorescence for single slide, comprehensive analysis of immune infiltrates within tumor biopsies. Watch On Demand after April 6.
GEN Feature Articles
Supplement: Who Gets Immunotherapy for Cancer?
April 1, 2018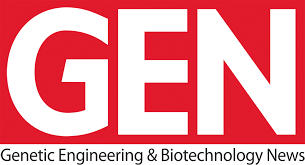 Single-agent or combination checkpoint inhibition (CPI) immunotherapy can have dramatic impacts for positive responders. But currently-used nonspecific biomarkers are unable to definitively stratify and identify cohorts. This is a critical challenge; no one wants to deny care. Targeted biomarkers and companion diagnostics can greatly aid therapeutic decision making. Immunotherapy applications require more than just quantification of infiltrating immune cell subpopulations. Context is crucial, and concentrated efforts are underway to provide accurate information on the percentage and location of infiltrating immune cell subpopulations, both relative to each other and to tumor margins, as well as levels of expression of checkpoint and other immune markers. The Cell IDx UltraPlex mxIF (multiplex immunofluorescence) technology, a simple two-hour staining procedure, can simultaneously detect multiple biomarkers in tissue using a standard two-step primary and secondary antibody protocol and existing autostainers, imaging scanners, and image-analysis software. The technology is modular (plug and play); approximately 30 primary antibodies have been qualified thus far. Read the full article from GEN.
Cell IDx to present "High Throughput Multiplex Immunofluorescence for Immuno-Oncology" at 2018 Tri-Con
January 19, 2018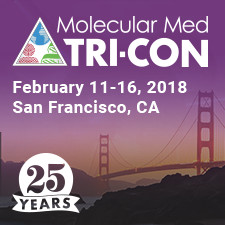 Cell IDx will be at the 25th International Molecular Medicine Tri-Conference in San Francisco from February 12–14th. Please attend our talk on "High Through-Put Multiplex Immunofluorescence for Immuno-Oncology" at 11:45am on Tuesday February 13th during the Immuno-Oncology Biomarker & Companion Dx meeting at the Moscone South Convention Center. Call us at 858.452.5800 to arrange a meeting or visit us at the Cell IDx Booth #302 during the meeting. We look forward to meeting you.
Multiplex Immune Profiling of HNSCC to Generate Immune Signatures Presented at AACR 2017, Washington, DC
April 7, 2017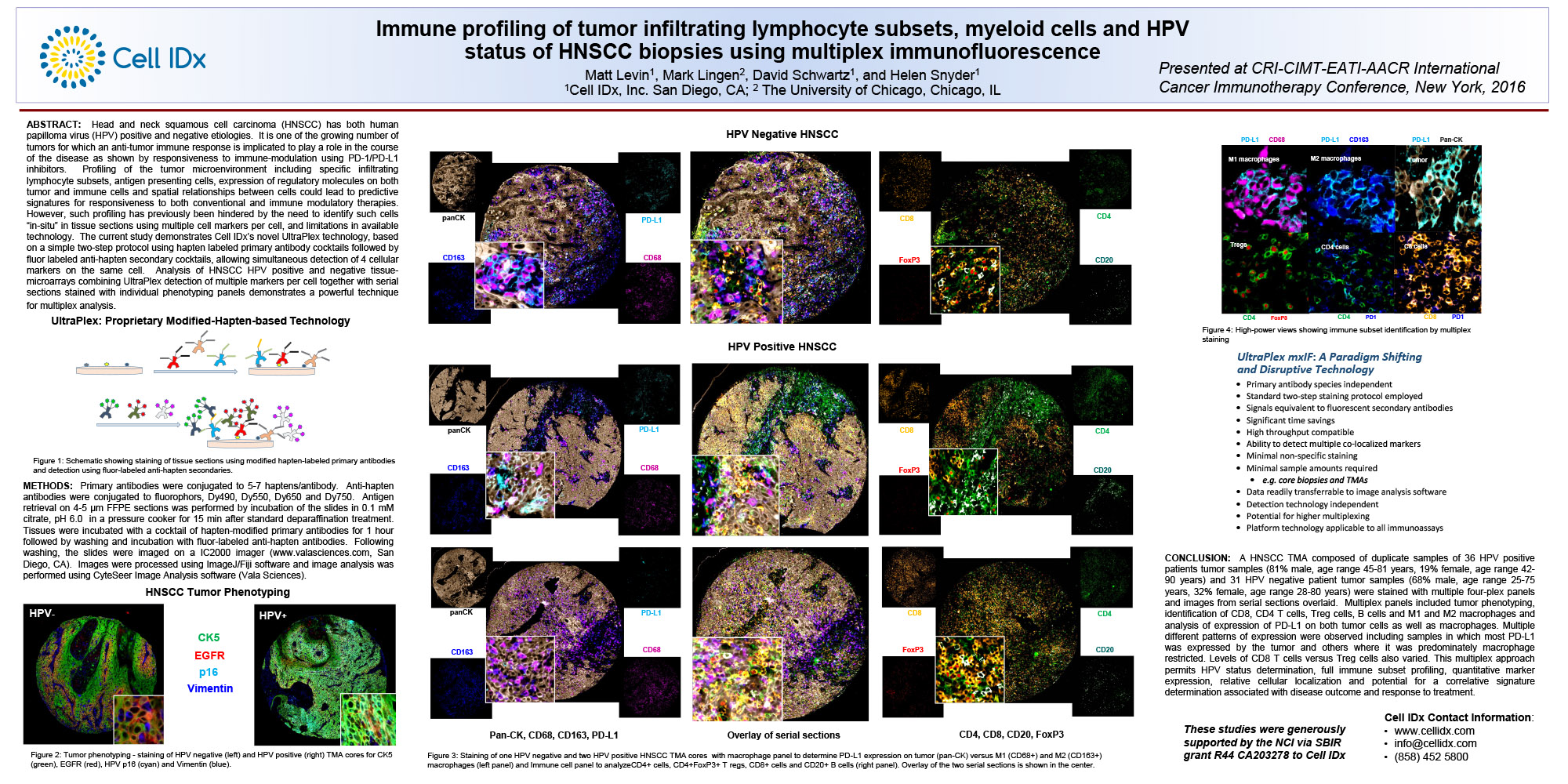 Cell IDx, in collaboration with the University of Chicago, presented a poster at the recent AACR 2017 meeting in Washington, DC, demonstrating that UltraPlex analysis of serial tissue sections from HPV-positive and -negative head and neck squamous cell carcinoma (HNSCC) tissue microarrays permits excellent immune profiling of patient samples. This together with analysis of clinical data provides a powerful tool for correlation of "Immune Signature" with patient outcome. Please feel free to download the poster and contact us with any questions regarding UltraPlex profiling.
Cell IDx Announces Publication of a Book Chapter Demonstrating the Use of UltraPlex Technology in ICC (Immunocytochemistry)
April 7, 2017
Cell IDx in collaboration with Bio-Techne announces the publication of a chapter titled "Hapten-Anti-Hapten Technique for Two-Color IHC Detection of Phosphorylated EGFR and H2AX Using Primary Antibodies Raised in the Same Host Species" in Signal Transduction Immunohistochemistry, Volume 1554 of Methods of Molecular Biology. (PUBMED). The work demonstrates the simultaneous detection of EGFR and H2AX in A431 human epidermoid carcinoma cells using Cell IDx's proprietary hapten/high affinity anti-hapten antibody technology. This work further expands the utility of the Cell IDx UltraPlex technology for use in ICC. Further work expanding the number of biomarkers simultaneously detected in a single assay is planned.
Cell IDx Announces a Collaboration with the University of Minnesota Dental School to Develop a Multiplex Assay for Temporomandibular Joint Disorder (TMJD).
April 7, 2017
Cell IDx is pleased to announce a collaboration with Dental School at the University of Minnesota to develop an UltraPlex mxIF panel to detect 4 biomarkers on archival tissues from patients with Temporomandibular Joint Disorder (TMJD). This project is funded by Delta Dental of Minnesota and is aimed at finding novel tissue biomarkers of TMJD and correlating the data with disease and treatment outcome. "We very much look forward to working with the University of Minnesota Dental School to advance our technology from development to translation into the clinic," David Schwartz, CEO/CSO, Cell IDx.
HNSCC Multiplex Profiling with Tumor and Immune Panels at the International Cancer Immunotherapy Conference, Sept 2016
October 14, 2016
Multiplex profiling of squamous cell carcinoma of the head and neck using tumor phenotyping and immune subset panels on serial sections provides a powerful tool for full characterization of immune infiltration of the the tumor microenvironment. If we missed you at the conference, feel free to download our poster and contact us about using these or other panels in your research.
Cell IDx introduces "Just in Time" Antibody labeling Kits
April 5, 2016
Now you can! Each Cell IDx kit is designed to label 100µg of antibody with an optimal number of fluors, enzyme, or biotin molecules, yielding a pure, high quality product. And with Cell IDx products, you can avoid the disappointment in results common with other companies' kits. Ask for one of our sample kits and see for yourself! Order three kits, Mix 'n' Match, and save money.
Cell IDx to Present at AACR 2016 in New Orleans, April 19
March 4, 2016
Please visit us at the upcoming AACR meeting in New Orleans, April 16-20th, 2016. On Tuesday April 19th from 1-5pm, Dr Helen Snyder will present a poster featuring our UltraPlex PLUS technology, entitled "Rapid 5-marker multiplex phenotyping of breast cancer subtypes & tumor infiltrating leukocytes in situ in FFPE sections." If you would like to get together during the conference, please contact us at info@cellidx.com and we would be delighted to set up a meeting. Find us at the Ernest N. Morial Convention center, Session Title "Circulating Biomarkers/Immune Biomarkers," Halls G-J, Poster Session 23, Poster #3949.
Cell IDx awarded a Direct to Phase II NCI contract titled "Development of a Multi-Panel Multiplex Immunofluorescence Breast Cancer Immunophenotyping Assay"
October 4, 2015
Cell IDx has been awarded a Direct to Phase II NCI contract entitled "Development of a Multi-Panel Multiplex Immunofluorescence Breast Cancer Immunophenotyping Assay." Dr David Schwartz, Cell IDx CSO, comments "the awarding of this grant validates our first-in-its-class Multiplex Immunofluorescence (mxIF) technology. This technology satisfies a significant unmet need in immunohistochemistry allowing the sensitive and specific detection and quantification of multiple biomarkers on a single tissue. This grant will allow us to further expand our technology to higher multiplexing and advance it to the clinic."
Cell IDx to present UltraPlex mxIF technology at AdvaMed 2015.
September 14, 2015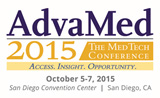 Cell IDx is pleased to be awarded the Biocom Scholarship to present its first-in-class UltraPlex mxIF Immunofluorescence Technology in the Innovation Showcase at the AdvaMed 2015 Partnering Conference in San Diego, Oct 5-7.
If you are attending and would like to schedule a meeting with Cell IDx please contact us.
Coming Soon! High-Sensitivity UltraPolymer Secondary Antibody AP Polymers
August 7, 2015
Cell IDx will soon release our high-sensitivity, low background, prediluted UltraPolymer secondaries in an AP labeled format. See our HRP/AP Gallery for examples of staining of breast cancer tissue. Contact us for additional information.
UltraPlex technology 3-4X brighter than fluorescent primaries!
June 25, 2015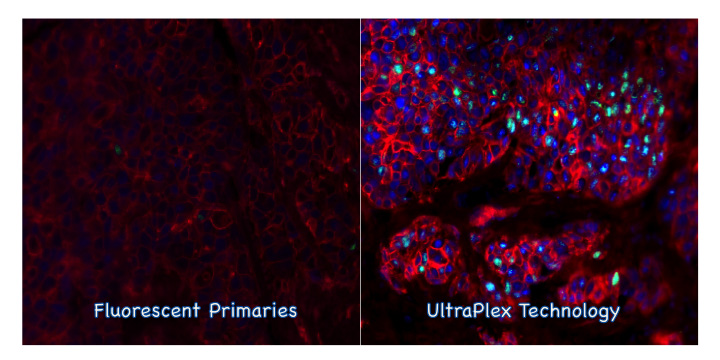 Cell IDx's multiplex immunofluorescence, breakthrough technology has solved the problem that has been perplexing histologists for decades — the ability to detect multiple markers on a single tissue!
The left panel consists of directly labeled anti-ER (blue), PR (green) and HER2 (red) antibodies. The right panel consists of anti-ER (blue), PR (green) and HER2 (red) antibodies detected using UltraPlex reagents.
Cell IDx's UltraPlex technology provides the freedom to create multiplex IHC panels with vivid staining and without antibody species restriction. See our Multiplex Gallery.
Have you ever imagined how different your research capabilities would be if you could get multiple marker, flow-cytometry quality data on cells while also identifying their localization in tissue sections? Cell IDx has the solution!
Multiplex IHC has, in the past, been mired in difficulties:
Fluorescent-labeled primaries just don't give the intensity of staining that you need for sensitive detection.
The need to use fluorescent-labeled anti-species secondaries to detect your primary antibody limits the number of markers that can be analyzed at one time.
Attempts to solve this problem have involved repeated rounds of staining and stripping that are time consuming and can affect levels of detection.
As shown above, UltraPlex technology provides the same flexibility to detect markers that you would get using primary antibodies but provides 3-4X brighter fluorescence.
Contact us for more information.
Cell IDx at AACR from April 19-22nd, 2015
April 13, 2015
David Schwartz, CEO/CSO, of Cell IDx will be attending the AACR in Philadelphia from Sunday, April 19th to Wednesday, April 22nd. If you are interested in setting up a meeting with him, please email us at info@cellidx.com.
Cell IDx and ImmunoReagents Inc. (www.immunoreagents.com) will be announcing the new distribution by ImmunoReagents of Cell_IDx's high sensitivity and specificity UltraPolymer Secondary Antibody-HRP polymers for IHC. Please look for Dr Schwartz at the ImmunoReagents booth in the AACR exposition or contact him directly at david_schwartz@cellidx.com
Comparison of Cell IDx UltraPolymer Secondary Antibody-HRP Polymers versus Competitors
March 28, 2015
High sensitivity and specificity are the hallmarks of any immunodetection reagent. The development of secondary antibody-HRP polymers was a major step forward to increase sensitivity and specificity of IHC immunoperoxidase-based staining. These reagents also reduced the number of steps and significantly shortened the time required to stain tissues. However commercially available secondary antibody-HRP polymers produce widely disparate images with respect to sensitivity and specificity.
Cell IDx introduces our UltraPolymer Secondary Antibody-HRP Polymers that produce images with equal or greater sensitivity and specificity compared to clinically used polymers. The image below compares Cell IDx anti-mouse and anti-rabbit secondary antibody-HRP polymers to both Dako and Biocare's polymers. If you are interested in comparing our UltraPolymers to the HRP polymer you are currently using, please let us know.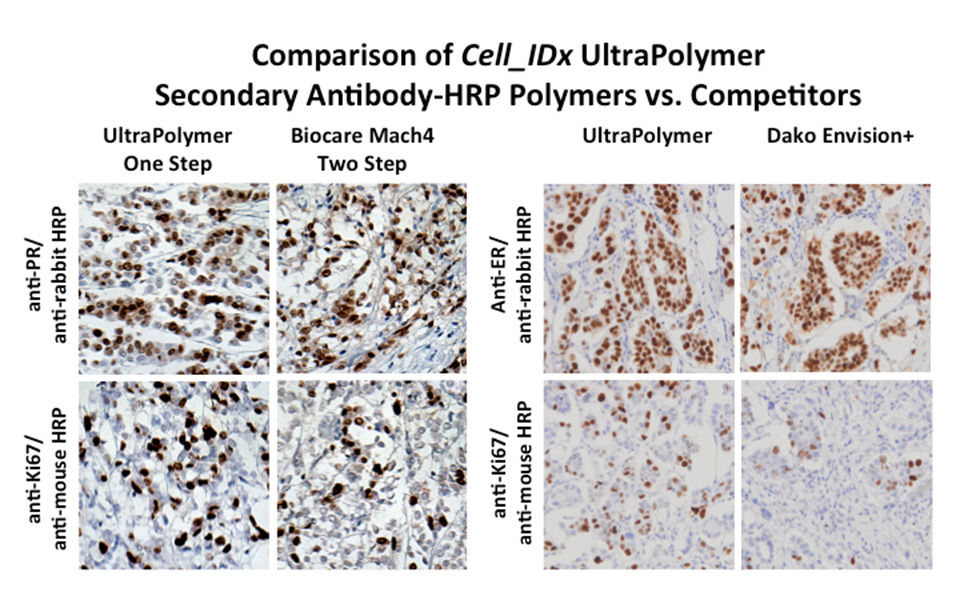 We welcome any suggestions for other high sensitivity peroxidase reagents to evaluate by comparison. We want to prove that we offer the most sensitive, most specific, and most cost-effective peroxidase conjugates you can buy!
Staining of ER+ PR+ Ki-67+ breast carcinoma sections using anti-ER and anti-PR rabbit monoclonal antibodies and anti-Ki-67 mouse monoclonal antibody and detecting using either Cell_IDx's UltraPolymer Secondary Antibody-HRP polymers or Biocare's Mach4 or Dako's Envision + staining systems. Click for more detailed staining protocol and image.
Welcome to the inauguration of Cell IDx's website!
January 16, 2015
Cell IDx is a privately held biotechnology company committed to developing highly sensitive and specific reagents for research and clinical immunohistochemistry and other immunoassays. In many next generation assays the last 'piece of the puzzle' is new reagents that not only detect their target with greater sensitivity and specificity but also satisfy the need to detect multiple targets simultaneously, i.e., multiplexing. Creating those reagents is our mission.
Cell IDx is excited to introduce our platform UltraPlex multiplexing technology that allows use of antibodies from a single species for detection of 3 or more targets on a single tissue. We invite you to visit our Multiplex Immunohistochemistry page to learn more about our technology and how it can further your research, by providing data not previously accessible and providing it faster.
With our expertise in bio-organic chemistry and assay development we have developed enzyme conjugates of equal or greater sensitivity to those currently on the market. Visit our UltraPolymer Enzyme product page for more information and our Gallery page for a variety of images obtained using our conjugates.
Cell IDx also offers custom conjugation services. We have over 50 years' experience conjugating and immobilizing all biomolecules and surfaces with the highest yield while retaining biological activity. More information can be found at Custom Services.
Cell IDx will continue to strive to produce reagents and technologies that answer the present and future needs of the research and clinical markets. Please return to our website to be kept informed of new product launches and updates to our current catalog of products.