Cell IDx's UltraPlex platform technology provides everything you need for multiplexed
IHC-based

immune-profiling

of tissue biomarkers. One technology from research to clinical — from staining to analysis in one day.
News & Technology Updates
Single-cell Analysis Reveals New Evolutionary Complexity
in Uveal Melanoma
January 24, 2020 — Cell IDx is pleased to announce the co-authorship and inclusion of our UltraPlex mxIF technology in the University of Miami's Nature Communications paper "Single-cell analysis reveals new evolutionary complexity in uveal melanoma."
Read the full paper on Nature's website.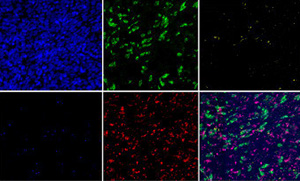 For Research Use Only. Not for use in diagnostic procedures.